Boris Johnson visits Ukrainian president Zelenskiy in Kyiv
In a post on Twitter, with a photograph of the prime minister next to Zelenskiy, Jonhson wrote:
What happens in Ukraine matters to us all. That is why I am in Kyiv today.
Earlier today, Johnson reiterated his support for Ukraine on the country's independence day. He wrote: "For however long it takes, the United Kingdom will stand with you".
What happens in Ukraine matters to us all.

That is why I am in Kyiv today.

That is why the UK will continue to stand with our Ukrainian friends.

I believe Ukraine can and will win this war. pic.twitter.com/FIovnqJGTS

— Boris Johnson (@BorisJohnson) August 24, 2022
In three weeks' time, Johnson will no longer be UK prime minister. Despite the country being beset by a series of crises, from the mounting cost of living crisis to war in Ukraine, he has been accused of leading a "zombie" government.
Updated at 14.41 BST
Key events
Show key events only
Please turn on JavaScript to use this feature
Here are the latest photos to come out of Ukraine and elsewhere, as the nation's independence day coincides with six months since Russia's invasion.
People attend a small protest holding placards and candles near the Russian embassy in Tokyo, Japan.
Photograph: Richard A Brooks/AFP/Getty Images
A woman holding a Ukrainian flag poses for photos next to Russian armoured military vehicles that were captured by the Ukrainian army, displayed in Khreshchatyk Street, Kyiv, on independence day.
Photograph: Roman Pilipey/EPA
Aa member of the local Ukrainian diaspora protests in the main square in Krakow, Poland.
Photograph: Artur Widak/NurPhoto/REX/Shutterstock
A police officer walks past a statue of a hand with fingernails painted in colours of Ukraine's national flag in Prague, Czech Republic.
Photograph: David W Černý/Reuters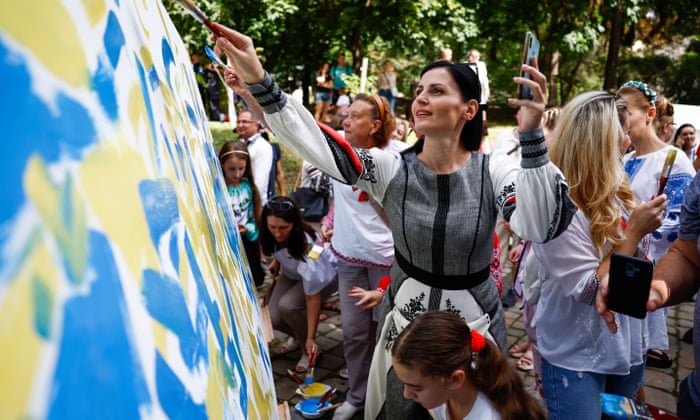 People paint a white canvas the blue and yellow colours of the Ukrainian flag during a ceremony in the Na Valakh park in Lviv, Ukraine.
Photograph: Jeff J Mitchell/Getty Images
A Ukrainian national flag waves in front of the independence monument in the centre of Kyiv.
Photograph: Valentyn Ogirenko/Reuters
Updated at 14.28 BST
Ukraine's president, Volodymyr Zelenskiy, has vowed to regain territories taken by Russia in a speech marking 31 years since the end of Soviet rule and six months since the war began.
Zelenskiy: Ukraine will retake Donbas and Crimea 'whatever the path may be' – video
In an address delivered in front of Kyiv's central monument to independence from the Soviet Union, he said:
For us, Ukraine is all of Ukraine. All 25 regions, without any concessions or compromises. It doesn't matter to us what kind of army you have; what matters to us is our land. We will fight for it until the end.
Thousands of people have been killed since the war began on 24 February, with Ukraine acknowledging 9,000 military deaths, and there is little hope that an end to the fighting is in sight
From Kyiv, Emma Graham-Harrison looks at the traditional dress of Ukraine's president as the country celebrates 31 years since declaring its independence from the Soviet Union.
Zelenskiy shows off his impeccable comms skills once again — wearing a traditional Ukrainian vyshyvanka shirt for independence day, but in military colour of his usual fatigues, and embroidered with a tank and APC https://t.co/0S9b1ZfA6R

— Emma Graham-Harrison (@_EmmaGH) August 24, 2022
Updated at 14.03 BST
Lithuania's president has expressed concern at Russia's ambitions beyond the borders of Ukraine, and called the war a "true miscalculation".
Speaking on Sky News, Gitanas Nausėda said:
Ukraine is fighting for their freedom, but I think Ukraine is fighting also for us, for the freedom of democracy.
Nausėda added:
Everybody understands that there's no limit of appetite of Vladimir Putin and Kremlin's regime. If they will succeed in Ukraine there will be [a] continuation of this aggression and expansion.
When asked if he was worried of Putin's ambitions to go beyond Ukraine's borders, Nausėda responded: "Unfortunately, yes."
Updated at 14.04 BST
During a visit to Salisbury Plain, Keir Starmer said the UK "will not be divided politically" in it's defence of Ukraine against Russian aggression.
According to PA Media, the Labour leader met with both Ukrainian and British personnel during his visit this morning, and said:
Six months after the start of the conflict in Ukraine, I've been here in Salisbury Plain watching Ukrainian troops being trained by British troops with live rounds, simulating the situation they are going to be facing. I've been so impressed with the training I've seen here, that the global reputation of British forces is of grit, of class and that sort of steely determination and courage on the battlefield.
Keir Starmer with troops during his visit to Salisbury.
Photograph: Stefan Rousseau/PA
Starmer added:
"My mission, my message to the Ukrainian people, to our troops, our Nato allies, is that on the issue of defending Ukraine against Russian aggression, we stand united. We will not be divided politically in the United Kingdom on this and I've been able to deliver that message first-hand amongst this very, very impressive training."
Updated at 14.06 BST
US president Joe Biden marked Ukraine's Independence Day on Wednesday with a new security assistance package nearing $3bn (£2.5bn) to equip the country for a war of attrition fought primarily in eastern and southern Ukraine.
Announcing the largest support package for Ukraine since Russia's invasion six months ago, Biden said:
The United States of America is committed to supporting the people of Ukraine as they continue the fight to defend their sovereignty.
Since the beginning of the Biden administration, the US has committed approximately $10.6bn in security assistance to Ukraine.
Updated at 13.47 BST
Jason Rodrigues
Ukraine gained independence in 1991 after the collapse of the Soviet Union, when hardline Communist leaders attempted to restore central Communist party control over the USSR.
Days after the coup, a special session of the Ukrainian parliament voted by 321 votes to two with 31 abstentions to declare Ukraine an "independent and sovereign republic", in which Soviet law no longer applied.
Artist Vitoria Drozdovskaya, in the crowd outside the parliament building in Kiev, said "now we can finally live like human beings after decades of living like animals".
Marta Dyczok in Kiev and John Rettie in Moscow reported for the Guardian on Ukraine's historic independence on 26 August 1991. Here's the Guardian piece published on that day:
Guardian, 26 Aug 1991.
Composite: The Guardian
Updated at 13.09 BST
Pope Francis been criticised for his remarks on Wednesday on the death of Daria Dugina, the daughter of a Russian ultranationalist intellectual allied with President Vladimir Putin, killed by a car bomb Saturday.
Earlier, Francis, citing "the innocents who are paying for madness", said:
I think of that poor girl who died because of a bomb under the seat of her car in Moscow.
In an unusual public criticism of the Pope's remarks, Ukraine's ambassador to the Vatican, Andrii Yurash, wrote that Wednesday's speech was "disappointing".
Today's speech ofPope was disappointing& made me think about many things: can't speak inSame categories aboutАggressor &Victim, Rapist and Raped; howPossible To Mention 1of ideologists ofImperialismAs innocent victim?She wasKilledBy russiansAsSacredVictim &isNowOn Shield ofWar pic.twitter.com/GvvM7zJDCa

— Andrii Yurash (@AndriiYurash) August 24, 2022
Updated at 12.53 BST
Damian Carrington
US and UK financial institutions have been among the leading investors in Russian "carbon bomb" fossil fuel projects, according to a new database of holdings from recent years.
Campaigners in Ukraine said these institutions must immediately end such investments, to limit the funding of Russia's invasion of Ukraine and to avoid climate breakdown.
Carbon bombs are fossil-fuel extraction projects identified by researchers to contain at least 1bn tonnes of climate-heating CO2, triple the UK's annual emissions. Russia is a hotspot, with 40 carbon bombs, 19 of them operated or developed by Russian companies backed by foreign finance. The companies are Gazprom, Novatek, Lukoil, Rosneft oil company and Tatneft.
Interactive
Read more on how the UK and US banks are among the biggest backers of Russian 'carbon bombs' here:
A former mayor of Russia's fourth-largest city was arrested Wednesday on charges of discrediting the country's military, part of a crackdown on dissent of Moscow's military action.
Police arrested Yevgeny Roizman, a critic of the Kremlin, who served as the mayor of Yekaterinburg in 2013-2018, following searches at his apartment and office, according to AP.
Roizman, 59, told reporters he was charged under a new law adopted after Russia sent troops into Ukraine on Feb. 24. Earlier this year, he was fined on similar charges. If convicted, he faces up to five years in prison.
Police detain Yekaterinburg ex-mayor Yevgeny Roizman in Yekaterinburg, Russia.
Photograph: Vladimir Podoksyonov/AP
Updated at 12.26 BST
Pope Francis has renewed called for peace for the "beloved" Ukraine on the country's independence day and the six-month anniversary of the start of Russia's invasion.
Following his weekly general audience at the Vatican, Francis directed his address to "the beloved Ukrainian people who for six months today have been suffering the horror of war," AFP reports.
Referring to the Russian-controlled nuclear plant in souther Ukraine, and Europe's largest, which has been the target of military strikes, Francis added:
I hope that concrete steps will be taken to put an end to the war and to avert the risk of a nuclear disaster in Zaporizhzhia.
Francis also mentioned Daria Dugina, the daughter of a Russian ultranationalist intellectual allied with President Vladimir Putin, who was killed by a car bomb Saturday. ""I think of that poor girl who died because of a bomb under the seat of her car in Moscow," he said.
Pope Francis, sits on a wheelchair, leaves after his weekly general audience in the Paul VI hall, Vatican City.
Photograph: Ettore Ferrari/ANSA/ZUMA Press/REX/Shutterstock
Updated at 12.44 BST
READ NEWS SOURCE
The post Russia-Ukraine war: UK 'could toughen visa rules for Russians'; Ukraine braced for attack on independence day – live appeared first on thewashingtondigest.com.