Explosion reported at HQ of Russia's Black Sea fleet in Crimea
There have been multiple reports of an explosion in Crimea on Saturday morning, with an unmanned aerial vehicle (UAV) striking the Black Sea Fleet's headquarters in Sevastopol.
IZ.RU reports on Telegram that according to the governor of Sevastopol, Mikhail Razvozhaev, a drone flew into the roof of the headquarters of the Black Sea Fleet, before being shot down over naval headquarters.
He posted a picture online, saying nobody was hurt.
Razvozhaey added that no one was hurt. Ukraine has not commented on the reported attacks.
The Guardian has not independently verified this report.
Updated at 10.21 BST
Key events
Show key events only
Please turn on JavaScript to use this feature
Miranda Bryant
You can read the Guardian's full report of Ukraine's strikes on Russia's Black Seat Fleet headquarters here:
Ukraine has launched a fresh strike on Russia's Black Sea fleet headquarters at Sevastopol, where officials in the annexed Crimean peninsula said that at least one drone had been shot down by air defences.

The reported attack on Saturday morning – a day after explosions erupted near military bases in Russian-held areas of Ukraine and Russia itself – came amid cautious optimism elsewhere as two more grain ships left a Ukrainian port.

The shipments, from Chornomorsk port, brought the total number to leave Ukraine's Black Sea under a UN-brokered deal to 27.
A £65m superyacht of a Russian oligarch hit by sanctions will be auctioned off by the Gibraltar government on Tuesday, becoming the first of the luxury vessels to be sold off since restrictions were imposed on hundreds of rich Russians after Vladimir Putin's invasion of Ukraine.
However, the 72.5-metre Axioma is not being sold for the benefit of the Ukrainian people but for a US investment bank, JP Morgan, which claims the yacht's billionaire owner, Dmitry Pumpyansky, owes it more than $20m (£17m).

The vessel, which features six luxurious guest cabins, a swimming pool, a 3D cinema room, gym, jacuzzi and a fully equipped spa, was detained after docking in Gibraltar in March.

Pumpyansky, the owner and chairman of the steel pipe manufacturer OAO TMK, a supplier to the Russian state-owned energy company Gazprom, was subjected to sanctions by the UK, EU and the US after the invasion of Ukraine. The UK said the billionaire, who it said had built up an estimated £1.84bn fortune, was one of the oligarchs "closest to Putin".

Robert Neate's full report is below:
Lloyd J. Austin III, US secretary of defense, has tweeted regarding the $775m support package the country is providing for Ukraine.
We just announced another Ukraine security assistance package.

It includes a mix of capabilities — some new, some the Ukrainians have been using very effectively. As Russia's unprovoked invasion enters its sixth month, our commitment to Ukraine remains unwavering. pic.twitter.com/uQqexjqAju

— Secretary of Defense Lloyd J. Austin III (@SecDef) August 20, 2022
Updated at 13.29 BST
António Guterres, the UN secretary general, has praised the "moving" site of Ukrainian wheat headed for eastern Africa as part of an operation by the World Food Programme.
So moving to see in Istanbul the @WFP ship Brave Commander loaded with tonnes of Ukrainian wheat destined for much needed hunger relief in the Horn of Africa. I salute all those involved in this amazing humanitarian operation. pic.twitter.com/MqUuK98sCY

— António Guterres (@antonioguterres) August 20, 2022
Updated at 12.47 BST
Ukraine is "trolling" Moscow with a parade of Russian military vehicles in Kyiv on Saturday, reports senior international affairs correspondent Emma Graham-Harrison:
Ukraine continues trolling Moscow.

Putin reportedly expected a rapid victory parade through Kyiv. Ukraine's military said some Russian soldiers deployed with formal uniforms to prepare.

Today Russian military vehicles finally lined up down main street of Ukraine's capital… https://t.co/UgvXUQUlIg

— Emma Graham-Harrison (@_EmmaGH) August 20, 2022
Updated at 12.42 BST
Multiple children reportedly injured following attack on residential building in Mykolaiv region
Multiple children have reportedly been injured following a Russian strike on a residential building in the Mykolaiv region of Ukraine.
One girl's eye was torn out by shrapnel, according to Nexta, following the attack on the five-story building in Voskresenske.
A BBC Ukraine journalist, who tweeted a picture of the damaged building, said four children aged three to 17 were seriously injured and five adults were injured:
Four children aged 3-17 are seriously injured as a result of Russia's rocket strike on a residential building in Voznesensk, Mykolaiv region. A girl lost her eye and is being transferred to Mykolaiv. Five more adults got injured. Here's what's left of what used to be their home pic.twitter.com/qTPr1cgq7i

— Myroslava Petsa (@myroslavapetsa) August 20, 2022
Updated at 12.41 BST
Olaf Scholz has praised Alexei Navalny on the second anniversary of the jailed Russian opposition politician's attempted poisoning.
The German chancellor also criticised Russia's clampdown on freedom of speech.
"The war that Russia started against Ukraine is a war that also has consequences for Russia," Scholz said in a video message on Saturday.
"Freedom and democracy were already endangered before. But now, freedom of expression is much more endangered and many fear to say their own opinion."
He said it was important to remember Navalny because he was fighting for his belief that "one lives in a democracy and state governed by the rule of law".
Jailed Russian opposition leader Alexei Navalny appearing on a screen during a court hearing in Moscow to consider an appeal against his prison sentence in May.
Photograph: Evgenia Novozhenina/Reuters
The US is planning to buy about 150,000 metric tonnes of grain from Ukraine in the next few weeks for an upcoming shipment of food aid from ports no longer blockaded by war, the World Food Programme chief has told the Associated Press.
The Associated Press reports:
The final destinations for the grain are not confirmed and discussions continue, David Beasley said. But the planned shipment, one of several the U.N. agency that fights hunger is pursuing, is more than six times the amount of grain that the first WFP-arranged ship from Ukraine is now carrying toward people in the Horn of Africa at risk of starvation.

Beasley spoke Friday from northern Kenya, which is deep in a drought that is withering the Horn of Africa region. He sat under a thorn tree among local women who told the AP that the last time it rained was in 2019.
Their bone-dry communities face yet another failed rainy season within weeks that could tip parts of the region, especially neighbouring Somalia, into famine. Already, thousands of people have died. The World Food Programme says 22 million people are hungry.

"I think there's a high probability we'll have a declaration of famine" in the coming weeks, Beasley said.

The keenly awaited first aid ship from Ukraine is carrying 23,000 metric tons of grain, enough to feed 1.5 million people on full rations for a month, Beasley said. It is expected to dock in Djibouti on Aug. 26 or 27, and the wheat is supposed to be shipped overland to northern Ethiopia, where millions of people in the Tigray, Afar and Amhara regions have faced not only drought but deadly conflict.

Ukraine was the source of half the grain that WFP bought last year to feed 130 million hungry people. Russia and Ukraine signed agreements with the U.N. and the Turkish government last month to enable exports of Ukrainian grain for the first time since Russia's invasion in February.

But the slow reopening of Ukraine's ports and the cautious movement of cargo ships across the mined Black Sea won't solve the global food security crisis, Beasley said. He warned that richer countries must do much more to keep grain and other assistance flowing to the hungriest parts of the world, and he named names.
Updated at 11.42 BST
The UK's Ministry of Defence has posted its latest defence intelligence update.
In case you missed it last night, Ukraine's president, Volodymyr Zelenskyy, gave a video address to the nation, vowing that every Russian strike on the country would be answered.
Zelenskyy said: All those who experience this constant horror of the destruction of life and the destruction of everything that gives life normality. We will not leave any of these strikes unanswered. We will establish the identity of every occupier who gives orders and executes these strikes at cities. And we will bring them all to justice in one way or another. No murderer will hide.
You can listen and read a transcription of the full address here.
Updated at 10.53 BST
Ukraine's defense ministry say that in total they have killed 44,900 Russian personnel, an increase of 200 on the previous day. These figures have not been independently verified by the Guardian.
"There is nothing so likely to produce peace as to be well prepared to meet the enemy."
George Washington

Total combat losses of the enemy from Feb 24 to Aug 20: pic.twitter.com/cZZxfSlQb0

— Defense of Ukraine (@DefenceU) August 20, 2022
Updated at 11.01 BST
Explosion reported at HQ of Russia's Black Sea fleet in Crimea
There have been multiple reports of an explosion in Crimea on Saturday morning, with an unmanned aerial vehicle (UAV) striking the Black Sea Fleet's headquarters in Sevastopol.
IZ.RU reports on Telegram that according to the governor of Sevastopol, Mikhail Razvozhaev, a drone flew into the roof of the headquarters of the Black Sea Fleet, before being shot down over naval headquarters.
He posted a picture online, saying nobody was hurt.
Razvozhaey added that no one was hurt. Ukraine has not commented on the reported attacks.
The Guardian has not independently verified this report.
Updated at 10.21 BST
A scene set up by young Ukrainian activists representing Ukrainian people who are kept in cages and tortured by the Russian military occupiers before their execution. On the 177th day of the Russian invasion of Ukraine, members of the Ukrainian diaspora in Krakow and their supporters organised a support protest in front of the Russian consulate general in Krakow.
Photograph: Artur Widak/NurPhoto/REX/Shutterstock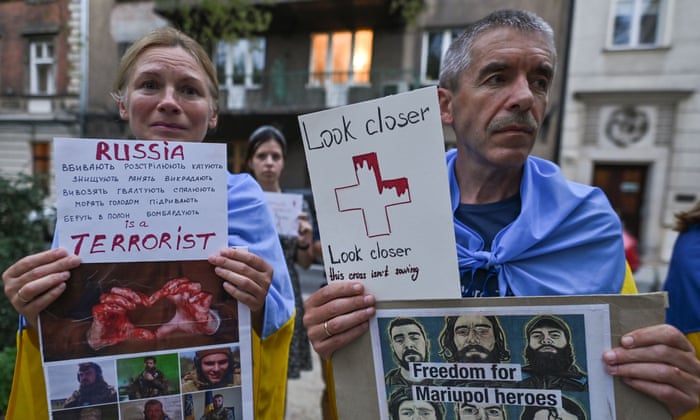 Protestors hold placards with images related to the Russian invasion of Ukraine and Mariupol defenders.
Photograph: Artur Widak/NurPhoto/REX/Shutterstock
Russian rockets launched from the Belgorod region are seen at dawn in Kharkiv, Ukraine, on Saturday.
Photograph: Vadim Belikov/AP
Updated at 09.13 BST
Here is a roundup of what we know as of yesterday regarding the Russia-Ukraine war.
Turkey has said that two more ships carrying grain have left Ukraine's Chornomorsk port, bringing the total number of vessels to leave Ukraine's Black Sea ports under a UN-brokered grain export deal to 27.
Reuters reports:
The Zumrut Ana and MV Ocean S, which are authorized to depart on Aug. 20, were loaded with 6,300 tonnes of sunflower oil and 25,000 tonnes of wheat respectively, the joint coordination centre set up to enable safe passage said in a statement.

Ukraine's Sea Ports Authority said on Saturday three Ukrainian seaports had begun loading food onto seven ships, which would deliver 66,500 tonnes of wheat, corn and sunflower oil to consumers.

Ukraine's grain exports have slumped since the start of the war because its Black Sea ports – a vital route for shipments – were closed, driving up global food prices and prompting fears of shortages in Africa and the Middle East.

At the end of July, three Black Sea ports were unblocked under a deal between Moscow and Kyiv, brokered by the United Nations and Turkey.
Updated at 09.27 BST
Frequent explosions behind Russian lines hitting logistics, says UK
In its daily intelligence briefing, the UK's Ministry of Defence says:
The last week has seen only minimal changes in territorial control along the front line. In the Donbas, after small advances from early August, Russian forces have approached the outskirts of the town of Bakhmut, but have not yet broken into the built-up area.

Russia has not made any major efforts to advance in the Zaporizhzhia or Kharkiv sectors.

In the south-west, neither Ukrainian nor Russian forces have made advances on the Kherson front line.
However, it adds the "increasingly frequent explosions behind Russian lines are probably stressing Russian logistics and air basing in the south".
Russia has reported fresh Ukrainian drone attacks, a day after explosions erupted near military bases in Russian-held areas of Ukraine and in Russia.
The latest apparent displays of Kyiv's growing ability to pummel Moscow's assets far from front lines occurred on Friday evening, Reuters reported, and followed huge blasts last week at an air base in Russian-annexed Crimea.
In a new assessment, a western official said the earlier explosions had rendered half of Russia's Black Sea naval aviation force useless.
Russia's RIA and Tass news agencies, citing a local official in Crimea, said it appeared Russian anti-aircraft forces had been in action near the western Crimean port of Yevpatoriya on Friday night. Video posted by a Russian website showed what appeared to be a ground-to-air missile hitting a target.
Tass cited a local official as saying Russian anti-aircraft forces knocked down six Ukrainian drones sent to attack the town of Nova Kakhovka, east of the city of Kherson. Ukraine says retaking Kherson is one of its main priorities.
Separately, an official in Crimea said defences there had downed an unspecified number of drones over the city of Sevastopol.
The aftermath of a suspected Ukrainian strike on a Russian arms depot at Nova Kakhovka in Kherson last month.
Photograph: EyePress News/REX/Shutterstock
Vladimir Putin's agreement to allow independent inspectors to travel to the Zaporizhzhia nuclear power plant, according to the French presidency, comes as concerns grow over fighting near the Russian-occupied site.
The UN nuclear watchdog's chief, Rafael Grossi, "welcomed recent statements indicating that both Ukraine and Russia supported the [International Atomic Energy Agency's] aim to send a mission to" the plant, Agence France-Presse reported.
The Kremlin said after Putin and the French president, Emmanuel Macron, spoke by phone on Friday that the two leaders had agreed that the IAEA should carry out inspections as soon as possible to "assess the real situation on the ground".
A flare-up in fighting around the Russian-controlled nuclear power station – with both sides blaming each other for attacks – has raised the spectre of a disaster worse than in Chernobyl.
The Kremlin said Putin stressed that shelling of the plant "creates the danger of a large-scale catastrophe".
The warning came a day after the UN secretary general, Antonio Guterres, and the Turkish leader, Recep Tayyip Erdogan, met in the western Ukrainian city of Lviv and sounded the alarm over the fighting. The Ukrainian president, Volodymyr Zelensky, urged the UN to secure the site.
Updated at 07.53 BST
Summary
Hello and welcome to the Guardian's continuing coverage of the war in Ukraine. As it approaches 9.30am in Kyiv, here is a summary of the latest developments on this Saturday 20 August 2022.
Vladimir Putin has agreed to inspectors visiting the Russian-held Zaporizhzhia nuclear plant in Ukraine. According to the office of the French president, Emmanuel Macron, the Russian leader had "reconsidered the demand" that the International Atomic Energy Agency travel through Russia to the site, after Putin himself warned fighting there could bring about a "catastrophe". The office said Putin had dropped his demand that the IAEA team travel to the site via Russia, saying it could arrive via Ukraine.

The UN secretary general has asked Russia not take the Zaporizhzhia nuclear plant off grid. António Guterres asked on Friday that the Russian-occupied facility not be cut off from Ukraine's electrical grid after Ukrainian reports that Moscow was planning to do so, saying the plant used "Ukrainian electricity".

Western officials say there are growing concerns over concerns over water cooling at the Zaporizhzhia plant. Its existing reactor cooling system is critical to the safety of the site and relies on the maintenance of the electricity supply to ensure operation, but officials are anxious that Russia may disconnect the supply if it tries to cut off the plant from Ukraine's grid.

More than half of Russia Black Sea naval aviation has been knocked out, according to a western official in Ukraine. The Ukrainian raid on the Saky airbase in occupied Crimea last week knocked out "more than half" of Russia's combat naval aviation in the Black Sea, western officials have said. However, overall "combat stasis" remains.

The US has announced a new $775m (£655m) package of defence equipment and ammunition for Ukraine, including various types of missiles, drones, artillery and mine-clearing systems. The US has previously sent Ukraine more than $9bn in weapons systems, ammunition and other equipment.

Russia's media watchdog said it was taking punitive measures against TikTok, Telegram, Zoom, Discord and Pinterest. Russia has repeatedly threatened to fine sites – including Google – that violate harsh new laws criminalising the spreading of "false information" about the Russian army. On Tuesday, Russian courts fined the US-based live streaming service Twitch 2 million roubles ($34,000) and messenger service Telegram 11 million roubles for violating military censorship laws.

A former Russian mayor has been appointed head of Russian-occupied Kharkiv, Ukraine's second-largest city. It is the latest in a string of such appointments, which Kyiv says are part of attempts to annexe its territory.

Ukraine's economy minister has said the country's economy could contract 35-40% by the end of the year. Hit by Russia's 24 February invasion, the economy contracted 15.1% year-on-year in the first quarter of 2022.

The Kyiv Independent reported that rescuers are searching for people and bodies under the rubble of a dormitory destroyed in attacks on Kharkiv.

The Chinese and Russian leaders, Xi Jinping and Vladimir Putin, will attend the G20 summit in Bali in November, Indonesia's president, Joko Widodo, told Bloomberg News. "Xi Jinping will come. President Putin has also told me he will come," he said. As hosts of this year's summit, Indonesia has faced pressure from western countries to withdraw its invitation to Putin. The country has also invited the Ukrainian leader, Volodymyr Zelenskiy.


Kharkiv has been one of the most consistently shelled cities since the start of Russia's invasion of Ukraine, according to British intelligence. Sitting around 15km from the Russian front line, Kharkiv has suffered because it remains within range of most types of Russian artillery, the latest report from the UK's ministry of defence reads.
Updated at 07.25 BST
READ NEWS SOURCE
The post Russia-Ukraine war: explosion reported in Crimea as UK says attacks behind Russian lines hitting logistics – live appeared first on thewashingtondigest.com.