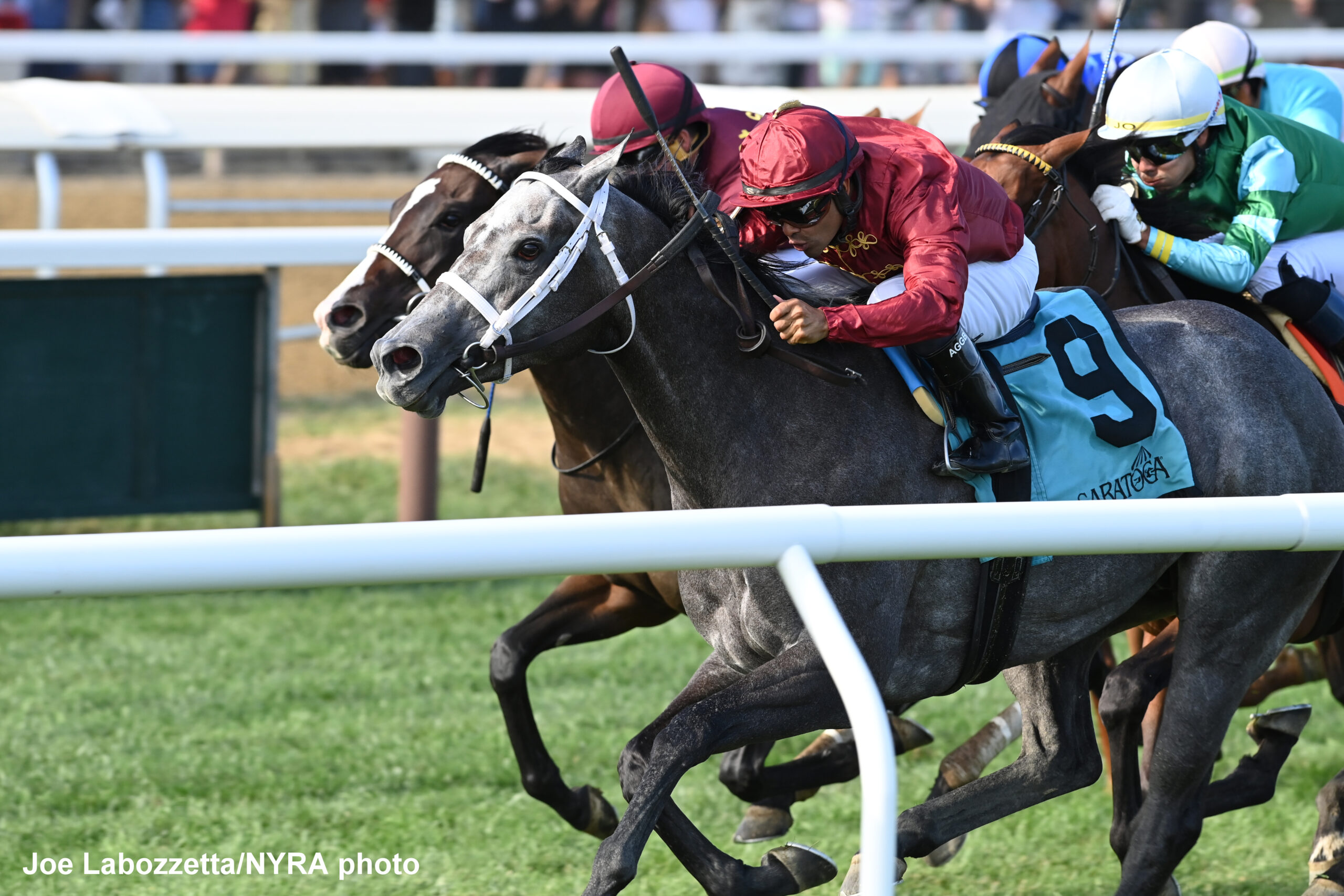 Tenacious Caravel digs in under Luis Saez to win the Smart N Fancy
A good break and a clean trip made the difference on Saturday for multiple graded stakes-winner Caravel, who pounced from off the pace to win the $150,000 Smart N Fancy, a 5 1/2-furlong Mellon turf sprint for older fillies and mares, at Saratoga Race Course.
Trained by two-time Eclipse Award-winner Brad Cox, Caravel improved from a disappointing off-the-board finish last out in attempt of a title defense in the Grade 3 Caress where she broke poorly from the inside post and was boxed in along the rail. This time, the 5-year-old daughter of Mizzen Mast broke sharply under Luis Saez and secured a half-length victory for the eighth stakes win of her career.
Away from the outermost post 9, Caravel hustled up to the front with Robin Sparkles and Sarah Harper vying for the lead to her inside. The trio marked off an opening quarter mile in :21.69 over the firm turf before Robin Sparkles came away with a narrow advantage over Sarah Harper approaching the turn.
Caravel came under urging from Saez as the field rounded the turn after a half-mile in 44.37 with the Colby Hernandez-piloted Change of Control moving up the rail to the inside of rivals and beginning her run from the back of the pack.
It looked to be anyone's race at the stretch call with Caravel battling a stubborn Robin al Sparkles and severmenacing foes, but the talented gray continued to hold on to her advantage with the late-running Illegal Smile advancing to her outside.
Caravel dug in under urging from Saez as Robin Sparkles tired and Change of Control weaved from off the rail to split rivals and make a strong run down the center of the course, angling to the outside of a game Illegal Smile. The determined Caravel would not be denied the victory and held off all challengers to claim the victory in a final time of 1:01.92.
Change of Control bested Illegal Smile by a neck for place honors with Miss J McKay three-quarters of a length back of them. Lady Edith, Fouette, Too Sexy, Robin Sparkles and Sarah Harper completed the order of finish. Spicy Marg, entered for the main track only, was scratched.
Cox said he was unsure if Caravel would run in the Smart N Fancy and that he had considered sending her to Presque Isle for a potential start in the $400,000 Presque Isle Masters (G2) on September 19.
"It was a little bit of a late decision to run her here. We didn't really have it on our radar after the last race," said Cox. "It was one of those that you mark it off. The trip was brutal, she broke a step slow and she was squeezed into the turn. I decided to talk to the ownership group and thought Presque Isle would make sense. Then I thought, 'Man, I've got over two months.' She was doing fine and there was no reason to not run her. We're here and we don't have to ship.
"I thought it made sense giving her a run here today and it kind of worked out as a filler between the Caress and the Presque Isle," Cox added. "That's on our radar. I'm not committed. We'll see how she comes out of this and see where we land."
Caravel has consistently trained over the Oklahoma training turf at the Spa, something Cox said helped her come ready to give her best performance.
"She likes it here and has breezed across the street several times and did well there. She was training every bit as good leading into this one, maybe even better, as opposed to the Caress," Cox said.
Saez said Caravel was game to the wire.
"She broke from there pretty sharp and was in the right spot," Saez said. "She came to the top of the stretch and she just kept going and won the race. That was a big turn of foot she had and she fought, too. They came close to her and she just kept going. She was pretty comfortable and she did pretty well.
"Today, the difference was the break," Saez continued. "She had a clean break and she was right there. When she came to the top of the stretch, she was really low so she took off. It was a great race."
It was the second Saratoga stakes score for Caravel, who won the Caress last year for previous conditioner and breeder Elizabeth Merryman. She went on to finish third in the Grade 1 Highlander at Woodbine last August and won the Queen at Turfway Park and Grade 3 Intercontinental at Belmont earlier this year. Her other stakes victories include the Lady Erie and Malvern Rose at Presque Isle Downs, the The Very One at Pimlico Race Course and the Goldwood at Monmouth Park.
With her Smart N Fancy victory, Caravel, who was bred in Pennsylvania, now boasts a consistent record of 10-0-3 from 17 starts and earnings of $647,777. She returned $9.80 for a $2 win wager. She is campaigned by Qatar Racing, Marc Detampel, and Madaket Stables.
Change of Control's trainer Michelle Lovell, who won her first Saratoga start with Damon's Mound in the Grade 2 Saratoga Special last Saturday, said the mare gave her all in overcoming the difficult trip to come away with place honors.
"We got a brutal trip. I thought she ran her heart out despite having trouble. There's nothing you can do," Lovell said. "We were on the inside draw and she looked like she got a little pinched on the backside. Colby kept trying to find a spot for her. She's got a big heart."
READ NEWS SOURCE
The post Game To The Wire: Caravel Repels All Challengers To Land Smart N Fancy At Saratoga appeared first on thewashingtondigest.com.