By:

Jessica Marksbury

August 24, 2022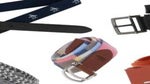 Fashion-savvy golfers know that coordinating your belt to match your shoes is an easy way to look put-together on the course — but what about a belt that has standalone style of its own?
A statement belt is a fantastic piece to have in your apparel arsenal because it allows you to mellow out a bit on your top and bottom so you can give the belt room to sing.
A fun print, stripe or pop of color is all you need to liven up a plain polo and khakis, and then you can work around the belt to choose appropriate headwear and shoes.
Check out some of our favorite statement belts below, and for more stylish swag for your game, make sure to click through the offerings at GOLF's Pro Shop.
All of our market picks are independently selected and curated by the editorial team. If you buy a linked product, GOLF.COM may earn a fee. Pricing may vary.
Johnnie-O Bowen
$75
The Johnnie-O Bowen Belt features a D-Ring and a stylish striped pattern on 100% cotton canvas to keep you comfortable and looking sharp.. on and off the golf course!
Buy Now
View Product
Puma Jackpot Braided
$35
Bring your look together with the PUMA Men's Jackpot braided Golf Belt. Featuring stretch properties, sleek details, and a buckle closure, the belt offers comfort, style, and performance!
Buy Now
View Product
J. Lindeberg Bernt Golf
$95
JL's Bernt Golf belt features web detailing and a rubberized buckle. Logo branding is displayed at the buckle and JL text across the belt strap.
Buy Now
View Product
Original Penguin Printed Pete Web
$39.5
Original Penguin's Printed Pete Web belt features cowhide trimming, a metal buckle, and printed Pete's around the belt.
Buy Now
View Product
Nike Weave Stretch Woven
$55
The Nike Weave Stretch Woven belt is created with a vegetable tanned leather trim and Nike G-flex technology for an increased range of motion, sizing versatility and extra comfort. The buckle is a brushed gunmetal harness with a matte black prong and a laser Swoosh logo.
Buy Now
View Product
Golf.com
As a four-year member of Columbia's inaugural class of female varsity golfers, Jessica can out-birdie everyone on the masthead. She can out-hustle them in the office, too, where she's primarily responsible for producing both print and online features, and overseeing major special projects, such as GOLF's inaugural Style Is­sue, which debuted in February 2018. Her origi­nal interview series, "A Round With," debuted in November of 2015, and appeared in both in the magazine and in video form on GOLF.com.
READ NEWS SOURCE
The post Complete your on-course look with these 5 statement belts appeared first on thewashingtondigest.com.